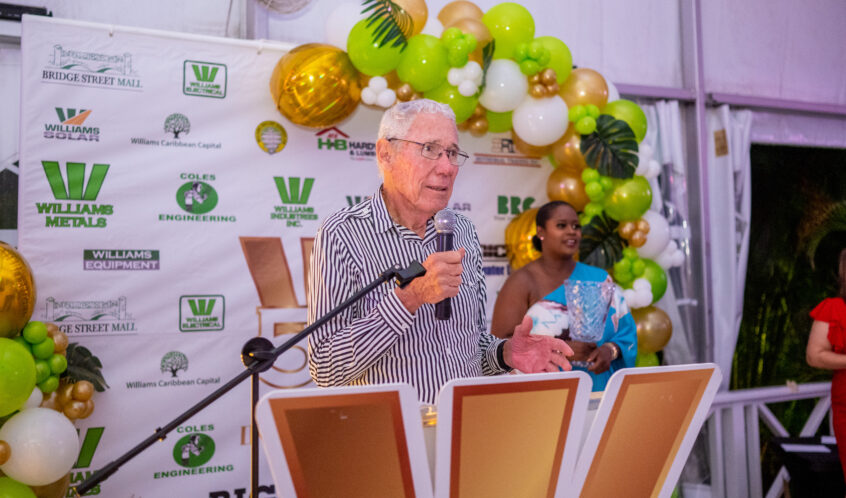 We were pleased to welcome The Honorable Davidson Ishmael, Minister of Industry, Innovation, Science & Technology, Directors, award recipients, and friends of Williams Industries Inc., to the Williams Industries Inc. 2022 Awards Ceremony & Dinner held at Mahogany Ridge on December 14, 2022.
We must not forget to thank God for blessing us with our successes that have enabled us this evening to award 134 employees who have worked for ten years or more with shares in Williams Industries Inc.
This year 2022 is the 50th year since the start of our first company and the 50th year of unbroken profitability for our Group of Companies. It is also the 25th year that we have had awards functions like this, except for the years when we were unable to because of Covid restrictions.
Last year, I said we were taking a critical look at whether we were adhering to the definition of Williams Industries Inc., which I remind you is, a joint venture between the providers of capital (the shareholders) and the providers of labour (the employees) in which the benefits created by the Joint Venture are shared equally between the two groups. A careful evaluation revealed that the providers of labour were receiving more benefits than the providers of capital, so our Board decided that we should only award shares to employees of companies that were profitable enough to buy the WII shares for their employees.
However, since everyone worked hard and diligently through Covid to maintain the profitability of the Group, our Board decided this year to issue all the shares that were not issued due to low profitability of individual companies in the past. This is why we have so many awardees this year, 2022. After these awards are presented this evening, Williams Industries Inc. will have 545 shareholders.

(Some of our awardees for 2022)
As I have previously announced, I plan to change my role from Executive Chairman to Non-Executive Chairman at the end of this year. I am very comfortable with this decision because I have refrained from making day-to-day decisions for two years now, and the Group has performed very well with our CEO André Walcott in charge and supported by our executive and non-executive Directors and staff.
As we look towards the future our executive teams must reflect on our Group's solid foundations, built by good men and women who believe in our Code of Conduct and our Golden Rules. These executives headed by our CEO is already working on expansion into Guyana and on improving the efficiency of our core businesses in Barbados, St Lucia and farther afield.
Consideration is also being given to developing a sustainable home model that can be built efficiently by contracts using kits of materials from WII. Grid-connected PV arrays on their roofs will power the homes. I am confident that we have the leadership in place within the Group to continue to go from strength to strength.
Our investment in Williams Caribbean Capital, chaired by David Staples, has performed well for the past six years. WCC led by Barry O'Brien and Ciaran Burke invested in Jamaica and Ireland and these investments performed better than expected. In Barbados, this team has raised the finance via Green Energy bonds to enable Williams Solar, headed by Gleeson Roach, to build out enough PV capacity to enable our Group to be Carbon negative.   This group plans to repeat the success achieved in Barbados in Jamaica, and a big investment in England is under consideration. They are also working on a green energy park at Vaucluse that will provide the island with base load electricity generated by garbage and biomass.
The expansion of our desalination plant at Spring Garden has been completed thanks to David Staples's oversight and the untiring efforts of Harriet Walrond and her team. Our four manufacturing companies, BRC West Indies Ltd, managed by Peter Collett, Structural Systems Ltd, managed by Mark Hinkson; Coles Engineering Ltd, managed by Iftikhar Mohammed and Caribbean Metals Ltd in St. Lucia, managed by Karen Peters, all overseen by our Operations Director, John Francis, have performed well this year.
Our Sustainable Barbados Recycling Center, SBRC, managed by Carol Scantlebury, performs a yeoman service to Barbados. Some days receiving over fifteen hundred tons of waste. SBRC is hard-pressed to find disposal sites for construction debris as this material should be used to refill exhausted quarries, but quarry owners are not cooperating, so the law needs to be enforced.  I hope this situation will change early in the new year.
This evening I wish every one of you, all the Williams Industries Inc. teams, our loyal and valued customers and all our stakeholders, a very blessed and happy Christmas season, never forgetting the real reason why we celebrate the birth of Jesus Christ every year. May God bless us all as we continue "Working to build a stronger Nation".
Ralph 'Bizzy' Williams
Founder & Chairman
Williams Industries Inc.