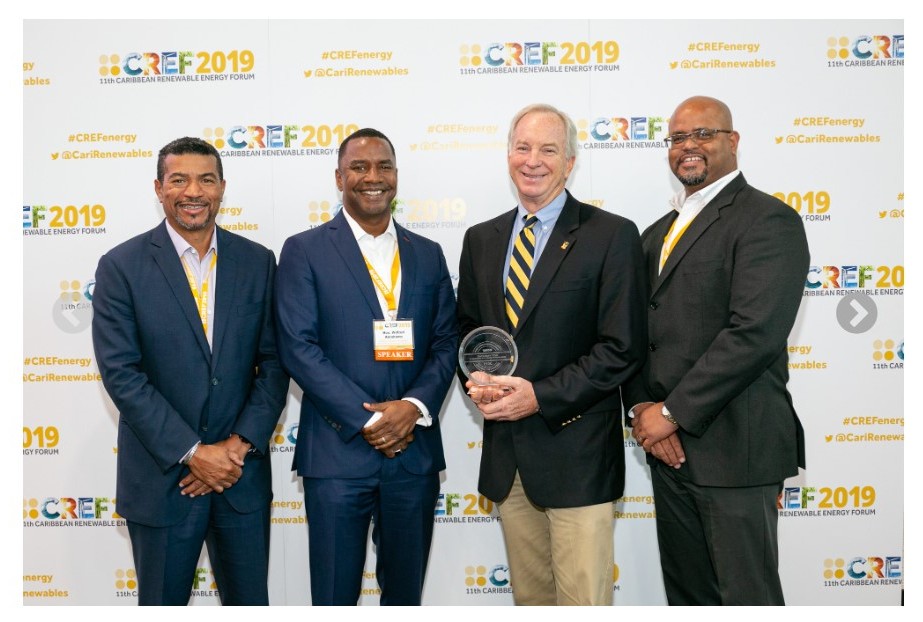 Williams Caribbean Capital wins International Investment Award
The Caribbean Renewable Energy Forum (CREF) which is the largest annual gathering for the regional clean energy sector, recently announced the winners at its 11th annual CREF Industry Awards in Miami.
The winners included the Barbados Headquartered business, Williams Caribbean Capital ("WCC"), which won the Best Financing Award following in the footsteps of CIBC First Caribbean from 2017.
New Energy Events, the organizers of CREF, established the awards program to recognize the leaders in the Caribbean energy sector who are making a lasting impact.
WCC won the award on the strength that it's green energy bonds which are issued to local Caribbean investors to fund the deployment of PV Solar primarily on Caribbean commercial rooftops and are the only such globally certified green energy bonds issued by a Caribbean company.
In May 2019, WCC's green bonds were validated as conforming to Green Bond Principles via a second party opinion from Sustainalytics. Sustainalytics are the world leaders for rating the sustainability of companies and bond issuances based on their environmental, social and corporate governance (ESG) performance and furthermore in June 2019, WCC's bonds were certified by the global Climate Bond Initiative as conforming to the Paris accord.
WCC (www.williamscaribbeancapital.com) is an impact investment company that is focused on sustainability including renewable energy, non-plastic food packaging solutions and impact high potential start-ups.
WCC is a joint venture with the Caribbean conglomerate Williams Industries Group (www.williamsindustries.bb) chaired by Ralph (Bizzy) Williams and is headquartered in Barbados with regional offices in Dublin Ireland and Kingston Jamaica.
Founded in 2017 and led by former Digicel CEOs Barry O'Brien and Ciaran Burke, with Williams Industries Director, David Staples as Chairman and Tony Cooney also formerly of Digicel as CEO for Jamaica.
Commenting Ralph (Bizzy) Williams, stated that he believes passionately that Caribbean citizens should build and benefit from alternative energy generation across the Caribbean to become truly in charge of their own energy supply. Hence, the decision to invest in WCC to facilitate local participation in the benefits of renewable energy while ensuring that financing is available to enable rapid expansion of renewable energy plants. WCCs "Green" projects are not only good for Investors, but are also very beneficial to the islands of Caribbean in reducing imports of fuel and reducing carbon footprint.
For the 9-month period ended September 30, 2019, PV Solar systems financed via green energy bonds issued by WCC offset 3,695 tonnes of CO2 carbon emissions which would otherwise have resulted from the burning of heavy fuel oil to generate the same electricity. Equivalently 180,000 trees would be required for a full year to offset the same 3,695 tonnes of CO2
WCC plans to continue expanding both in Barbados and across the Caribbean with a further green bond issuance in November 2019 led by its fund raising partner and trustee Royal Fidelity whilst WCC continues to seek new project partners with large commercial rooftops who have an interest in installing PV Solar on them.